Any web page(s) given to a customer throughout the step-by-step checkout procedure are referred to as a checkout page. Checkout pages are like the online equivalent of a grocery store's physical checkout counter.
Just like how customers can provide the items they want to buy and make payment at a physical checkout counter, customers can submit payment information and finalize their orders on the checkout page. The customer's shipping information, billing information, shipment method, and payment method will be collected during the checkout process. Then the customer is given the choice to complete the order.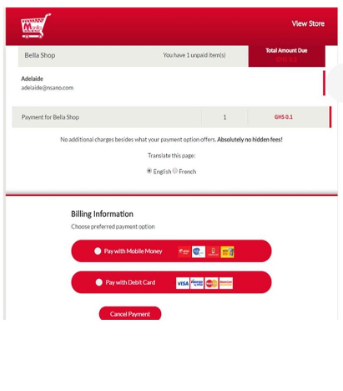 So, what exactly is checkout abandonment and why does it happen?
Checkout abandonment is the situation when a customer quits the payment procedure after starting the checkout process. As a result, conversions are lost since buyers do not complete the payment process. In order to better understand why customers quit their checkout pages, most firms turn to analytics. This is to guide and help them develop a better user experience and increase revenue. Data from 41 different studies showed that the average cart abandonment rate is just under 70 percent.
A few reasons why customers abandon checkout
Unclear Pricing: Unexpected costs such as shipping, taxes, and extra fees are usually not made obvious to the customer before purchase. Hence these costs are added to the order summary at the time of purchase. This causes customers to reassess the value of the purchase they are making. Customers tend to change their minds because of these additional costs.
Account required: Compelling users to register to make progress with their online order provides a barrier for ready-to-buy clients. Some online stores may ask for time-consuming information such as your birthday and phone number, which aren't required to purchase an item online. For some shoppers, having to provide all that information for a single transaction is inconvenient, making it difficult for customers to check out and, as a result, losing them.
Long and complicated checkout process: When making an online purchase, customers expect a quick checkout process. Customers will be slowed down and may quit a checkout process that takes too long, demands too much information, and is difficult to follow along with.
Periodic performance issues, errors, and crashes: Persistent performance issues, glitches, and crashes degrade the user experience and cause skepticism in the payment process.
Lack of alternative payment methods: Without the ability to offer distinct shipping alternatives and several payment ways, retailers fail to provide the ease that customers want and expect from retailers. Most customers will not purchase an item if it cannot be shipped by their favorite courier or paid using their preferred manner.
How to combat checkout abandonment
Provide alternative payment options: The most popular payment methods should be prioritized. It has been proven that the more payment alternatives available, the more likely customers are to complete their purchase. You may start with the popular payment methods so that most of your consumers may have their preferred payment method available, and then add on additional, less popular options as your business becomes more viable and more profitable in the future. Manilla, Nsano's web checkout page allows users to make payments using their Visa cards, Mastercard cards and all Mobile money wallets. This makes it easy for shoppers to use their preferred payment method and buy items in their cart in just one click.
Prioritize mobile-friendly design: Online shopping sites should prioritize mobile-friendly design while creating, designing, and optimizing their checkout to make the process seamless and consistent across all device types. For Manilla web checkout service, existing clients confirm the interface is simple, easy and user friendly for their customers.
Offer one-click checkout: The checkout experience determines the success of your online store. In as few clicks as possible, a positive experience will lead shoppers to the purchase confirmation page. If it's a negative one, they'll leave halfway through. Manilla offers a seamless checkout procedure, such as one-click checkout to complete the online transaction after a customer successfully load carts or selects products and services on an e-commerce site.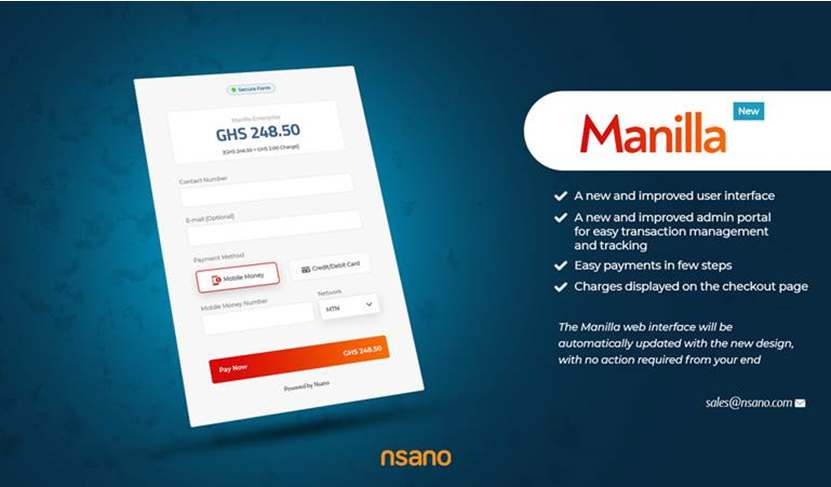 Unclear pricing, complicated checkout processes, and lack of payment options are some of the major reasons why customers leave.
The good news is that it can be avoided with Manilla web checkout service. Our mobile-friendly design ensures a seamless checkout experience across all devices. Manilla allows shoppers to buy their items with local payment methods, including digital wallets.
Sign up and give Manilla a try today.
To get started, contact Nsano via email at sales@nsano.com or call 055 968 9983.